Welcome to my site!
This English page is just a short explanation of what I am doing. I will extend it in future or create a separate English site.
Since 1987 I am working with people, started giving Ayurvedic and intuitive massages, and since 1989 also:
ENERGY READINGS
Reading your aura and chakras, I can help you to give you a clearer understanding of your energy at this moment.
Physical, emotional, mental and spiritual blocks and also every flowing aspect of your life named by me can help you to make better decisions or bring clarity in mind.
You can ask questions about your relationships, health, career etc.
I have done this also in English in the past 10 years, and as an Art of Living teacher (www.artofliving.org) I am used to teach in English too – as there are many English speaking people in our organisation.
Since a couple of years my husband and I have rented our guesthouse in the garden and we received many guests from all over the world, which is a wonderful experience.
One of our guests was Shauna, an American regressiontherapist, so a collegue of mine. I gave her an energy reading and this was her comment:
What an enchanting and restorative experience it was to stay in the cottage in the garden of Marga's houseboat. The cottage was cozy and charming, transporting me back to my grandmas cottage in Ireland. Staying on the Amstel River was delightful, but list of all Marga and family made the stay an absolute comfort, they were kind, helpful and welcoming. Marga picked us up from the airport, we rented bikes and had dinner there for a small fee, making it a memorable and warm experience. A huge and unforgettable bonus was the special treat was doing an energy reading/ session with Marga. As a therapist and healer myself I have received many healing session but my experience with Marga was one of the most positive and revitalizing I've had, if interested in these sorts of things, I recommend inquiring with her. Highly Recommend. Thank you Marga and Rico and fam!" Shauna from NYC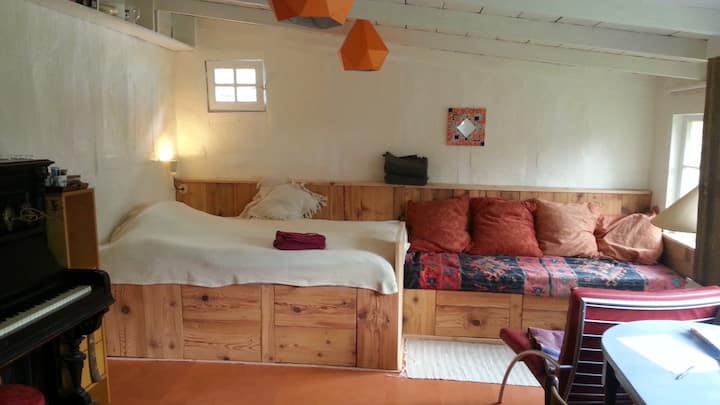 and as I give the energyreadings also by phone, she phoned me from NYC for another one afterwards. This is the start of my international career from home 😉
A friend of her called me some months later for a reading:
"Your communication was clear and the session was helpful, in many ways reiterating things I already know. I'm hoping, at this point, to get a better sense that things really are ok." Amber from NYC
And another friend of her, Diana too:
"I had a truly enlightening session with Marga. She accurately tapped into energies and truths around me, and with genuine care and presence helped me gain clarity on how bes tto navigate these life waters . Thank you so much for the work you do! Much love, Diana, NYC "
And our guest Daphne in August 2017:
"Marga And Rico's place is amazing – I highly-highly recommend it!!! It is a beautiful, quiet spot with great "Amsterdam flair", easy access to all the interesting and fun stuff in the city, and Marga and Rico are wonderful hosts all around. I also treated myself to an aura reading by Marga, which was very powerful and enlightening. Marga's skills and intuition were spot-on, and she provided a lot of great food for thought, new insights and inspirations. I was impressed how accurately she put her finger on issues that I have been working on for years, and her great new perspectives and inspirations shed valuable new light. Next time, I will certainly stay at this place, and I will do a 2-hour session with her. I can't wait… :-)"
"Marga gives readings. She is very good at it and her talent can be very supportive and offer clarity in difficult times". Paula
So you are welcome for a reading from where ever you live… by phone or by Whatsapp call, but also of course at my home. The Amstel Guesthouse in Amsterdam you can also find on Airbnb, and you are welcome to stay with us for a few days to relax, also in our garden and enjoy Amsterdam. At home you can also have a session of past life therapy or voice liberation with me.
The number is +31 6 55855188.
Email: margavklinken@gmail.com
You can mail me or call me for more information.
Price of an energy reading is 75 euro for one hour. It can be paid by PayPal.
Schools:
1982-1987 Free University Amsterdam Study History of Art
1987-1988 Ayurvedic Massage, Paris
1989-1990 Psychic Reading Opleiding Carolina Bont, NL
1995-1997 Reincarnation Therapy School, NL
1992 -now Art of Living, since 1997 Art of Living Teacher (NL, Germany, India, US)
2012-2014 Academy of Voice Liberation, Jan Kortie, NL